Current Position Information
Family Practice Physician, Trinity Health IHA Physicians Group, Ann Arbor, Michigan
Scholarly Research Project
Title: Increasing rates of PrEP therapy in women with recent diagnosis of STIs in primary care clinics through informational outreach 
Authors: Akruti Patel, DOPatel A, Stephanie Ballard, PharmDBallard S
Background:
HIV pre-exposure prophylaxis (PrEP) is recommended by the USPSTF for adult women with a bacterial STI diagnosis in the last 6 months. Truvada (tenofovir-emtricitabine) is a once daily PrEP medication shown to reduce the risk of new HIV infection.  A prior chart review of the SHYFHC practiceat UPMC Shadyside Family Health Center (SFHC) showed that PrEP had not been prescribed to any single woman womenany women based on STI diagnosis in the years 2012-2018 in the 6-month period prior to the review.
Methods:
An electronic health record report identified female patients with positive STI test results (DATES)from 11/1/2020 through 3/30/2021. Patients were randomized into two groups and received either routine care or an outreach communicationA letter outreach initiative promoting PrEP. The communication contained information about the drug, indications, resources, and office contact information and was sent via electronic message or by postal letter based on recorded patient preference.  and encouraging eligible patients to have PrEP related appointmentsThe primary outcome  was implemented to increasewas  new PrEP prescriptions. The secondary outcome was office visits completed after communication as a surrogate for PrEP initiation opportunities. in this patient population. Patients were randomized into two groups: (n=17) received an educational letter through mail/electronic messaging  vs (n=16) received routine care. The letter group received a generic mailed letter/myUPMC message promoting PrEP which included information about the drug, PrEP resources and our office contact information. Data were analyzed using chi square for between-group comparisons. A power analysis specified at least 91 patients in each group were required for 80% power at a 0.05% significance.The institutional quality improvement board approved this project.
Results:
RChart review identified 33 patients  meeting the criteria, of whom none had been prescribed PrEP. After randomization,.17 patients received communication and 16 patients received routine care. A three- month review post intervention revealed no new PrEP prescriptions withinprovided too patients in either group. 1 patient followed up in the three-month interval and had an office visit that did not pertain to PrEP or sexual health. Office visit results???
Discussion:
Given the lack of observed effectiveness, the letter was not seen as a valuable tool to add to the routine care for patients.  A power analysis specified at least 91 patients in each group were required for 80% power at a 0.05% significance.  The low number of patients enrolled in this project and office flow interruptions from the COVID 19 pandemic may have impacted results.
Conclusion:
This project suggests that low-touch provision of information may not be effective for stimulating patient- initiated discussions and subsequent PrEP initiation.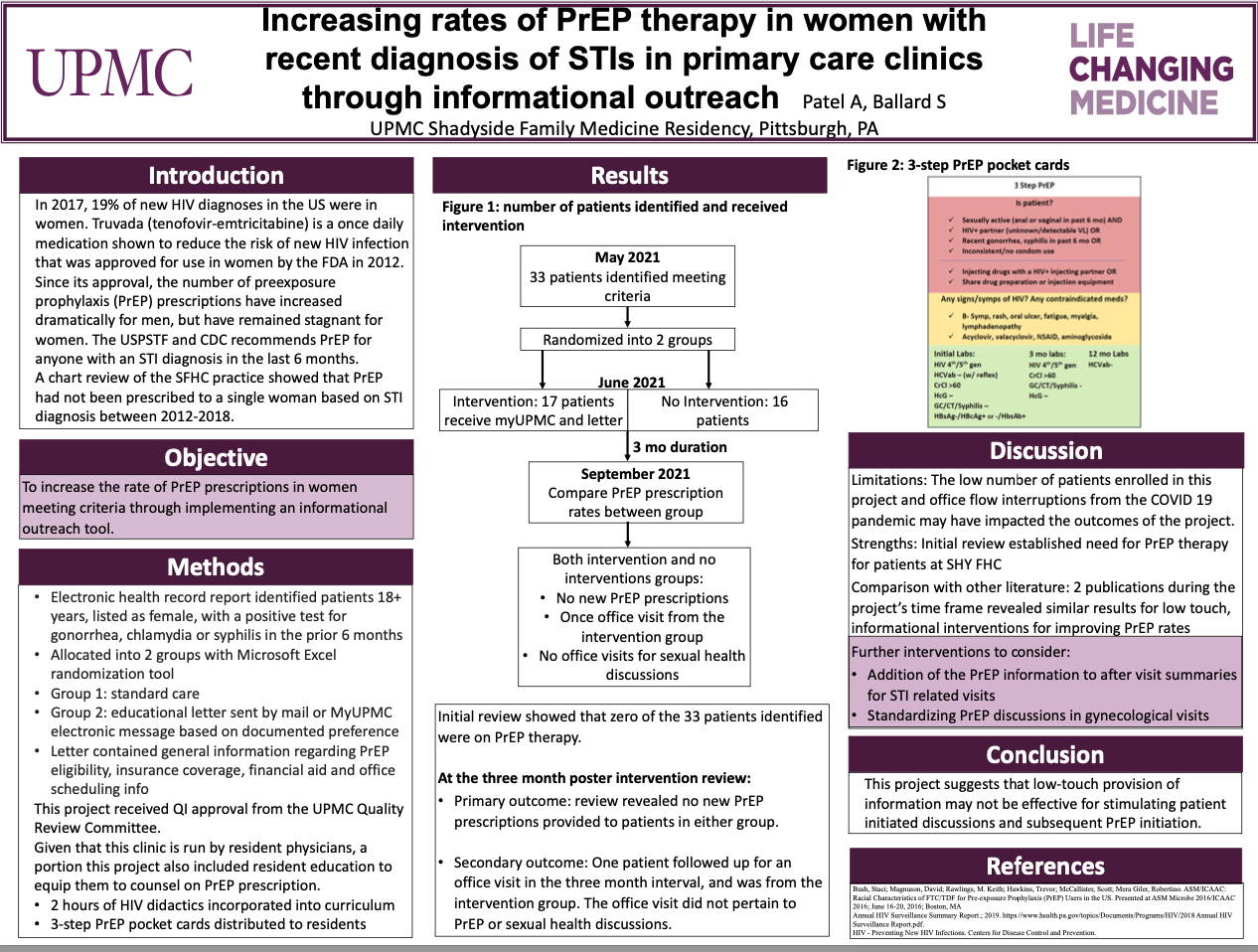 HomeTown
Sarnia, Canada