Current Position Information
Family Practice Physician, Excela Health, Latrobe, Pennsylvania
Scholarly Research Project
Use of an Outpatient Office EMR Text to Improve the Rate of Comprehensive Management of Obesity
Authors: Daniel Bodnar, DO; Alan Finkelstein, MD; Kathryn Vreeland, MD
Introduction:
Globally, obesity has been a top five cause of death with a known association with increased mortality. The United States struggles with an obesity epidemic with all 50 states having an obesity rate of greater than 20%. The Shadyside Family Health Center (SFHC) also struggles with this with 2,651 obese patients or 38.7% of its patient population. In 2018, a shortcut text template was constructed to automate inserting a simple food diary into visit handouts to track weight loss. The objective of this project was to expand electronic health record support for weight management care.
Methods:
A resident-led QI project expanded upon a previous project to improve patients' access to services to support weight management. This new expanded smart text included additional information such as dietitian support, bariatric support, mobile phone applications and support groups. A multipronged strategy was used to encourage providers to use the revised smart text, including daily reminders prior to office sessions, routine emails, and directory pamphlets at precepting stations. Smart text utilization was documented in a monthly report enabling comparison from the original projection initiation in 2018 to the revised tool.
Results:
Monthly screening rates upon initiation of the updated smart text increased to an average of 19 uses per month compared to 10.6 from the completion of the previous QI project. The overall smart text number used during these two QI projects totaled 678 uses. Upon initiation of a new multipronged approach reinforcing provider use in January 2021, the smart text was used 102 times in a three-month span with an average use of 34 uses per month.
Conclusion:
Updated and expanding a smart text used in weight loss helped drive a return to use by providers at this family health clinic. A multipronged technique to encourage use also helped improve use in 2021.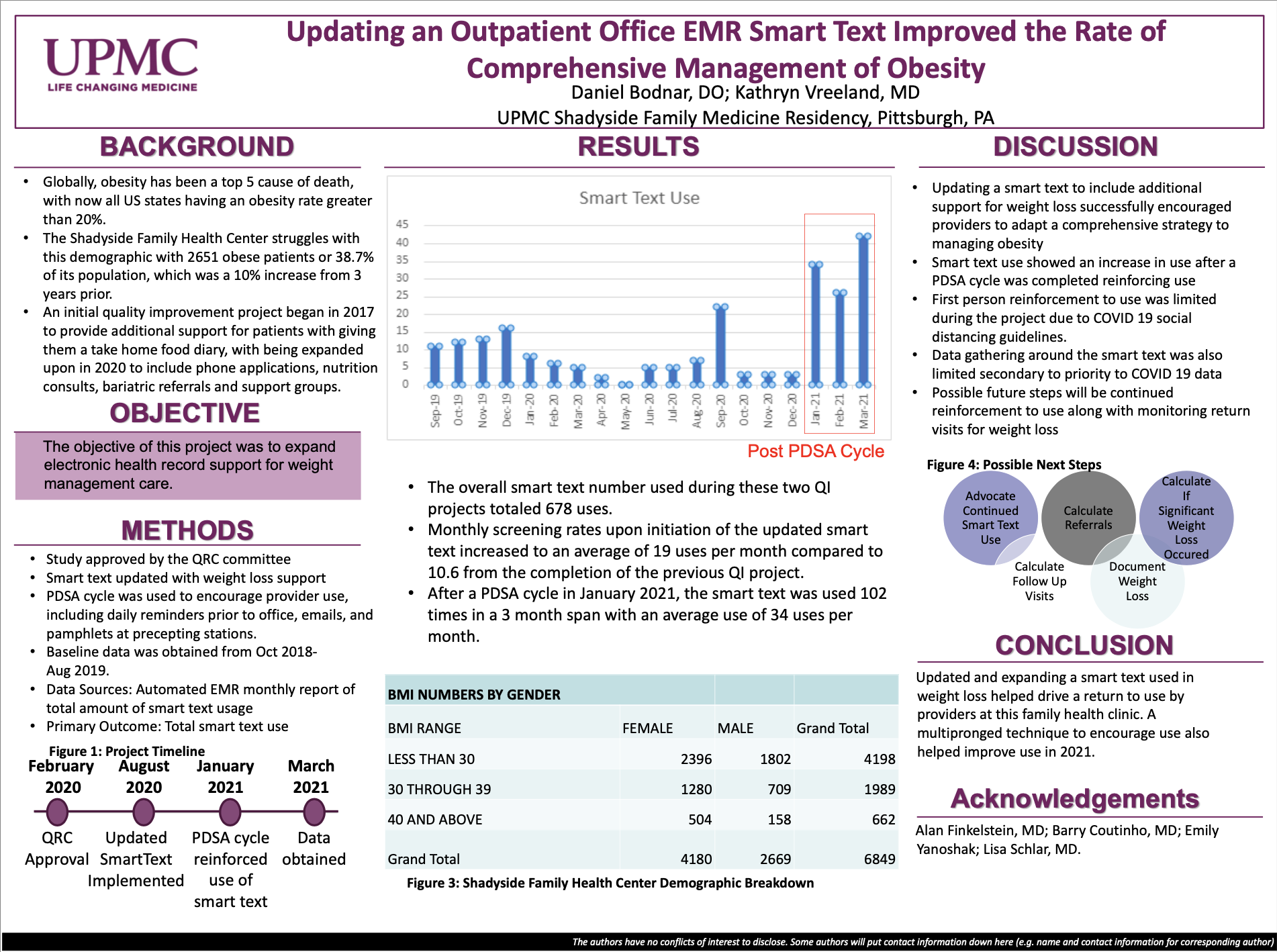 HomeTown
Pittsburgh, PA