Current Position Information
Fellow, Case Western Reserve University Sports Medicine Fellowship
Scholarly Research Project
Increasing Adolescent Depression Follow-Up Rates at the Shadyside Family Health Center
Authors: Lauren Paladino, DO; Maebelle Mathew, BS; Lindsay Nakaishi, MD, MPH, DipABLM;
Phillip Phelps, LCSW, BCD; Stephanie Richards, MD; Chinmayi Venkatram, BA
Background:
Adolescent depression and suicide rates are increasing. In October 2018, the Shadyside Family Health Center expanded depression screening to ages 11-18. From October 2018-January 2019, 48 adolescents were screened for depression, 35% (n = 17) screened positive, and 0% had depression follow-up. Our intervention expanded the role of the behavioral health care manager (BHCM) to include adolescent monitoring and outreach.
Methods:
Adolescents attending well-child visits received the PHQ-9 to screen for depression. Outcome measures included rates of positive screenings routed to the BHCM, telephone follow-up, and depression care follow-up visits. PDSA Cycle 1 began in October 2019: physicians routed positive screenings to the BHCM, the BHCM called patients to encourage follow-up, and physicians received training in adolescent depression management. PDSA Cycle 2 began in November 2020: the BHCM role expanded to include reminders to physicians prior to adolescent visits, increased warm hand-offs to the BHCM, and implemented a new follow-up scheduling process. 
Results:
Prior to this intervention, no adolescents were referred to the BHCM, contacted after their appointment, or seen for depression follow-up. After PDSA Cycle 1 (October 2019-May 2020), 10/34 patients (29.5%) were routed to the adolescent depression registry. Of those 10, the BHCM connected with 3 (30%). Overall, 2 patients (5.9%) had in person follow-up. After PDSA Cycle 2 (November 2020-March 2021), 16/26 patients (61.5%) were routed to the adolescent depression registry. Of those 16, the BHCM connected with 9 (56.3%). Overall, two patients (7.7%) had in person follow-up.
Conclusion:
Expanding the BHCM role to include follow-up phone calls, physician notifications, and scheduling, resulted in improved rates in physicians routing charts, BHCM connecting with patients, and office follow-ups. Next, we aim to increase follow-up rates to improve adolescent depression care. Future interventions may include text communication and increased family education.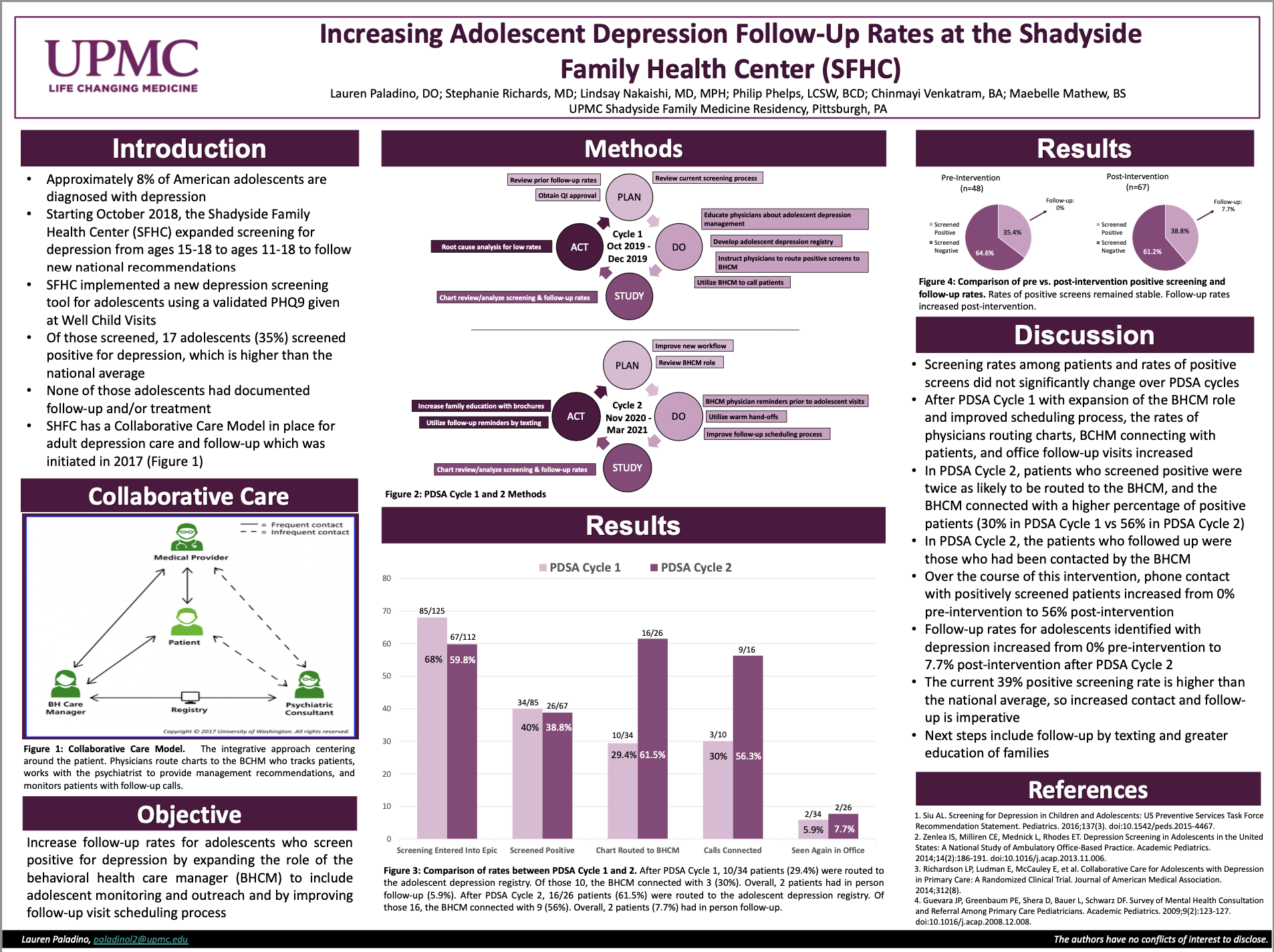 HomeTown
Pittsburgh, PA