Current Position Information
Family Practice Physician, CompHealth Locum Tenens, Santa Rosa, California
Scholarly Research Project
Title: Screening, Measuring, and Intervening to Address Food Insecurity at Shadyside Family Health Center 
Authors: Maria Velazquez-Connor, MD; Scott Brown, MD; Lisa Schlar, MD; Lori Stiefel, MD; Aishani Tingare, BS; Lilia Wilson, BA
Background:
Food insecurity (FI) is associated with poor health outcomes and refers to limited or uncertain food access to meet the needs of an individual or family. An earlier Shadyside Family Health Center (SFHC) pilot project found 45% FI among 100 high-risk patients, including birthing people and people with uncontrolled diabetes, and initiated food box distribution at SFHC. The current intervention initiated and assessed universal patient screening and continued providing point-of-care food boxes with referral to community food resources.
Methods:
Universal screening (launched November 2021), involved distributing a validated two-item FI screen and an evaluation for SNAP/WIC referral. Screens were to be documented in the Social Determinants of Health (SDoH) tab in patient charts. Patients screening positive were offered a free food box supplied by a partnering agency. Nursing staff tracked food box distribution with a pre-scripted dot phrase. Physicians added FI to patient diagnoses and problem lists. To assess FI screening and appropriate documentation, EPIC data was collected from November 2021 through February 2022.
Results:
During the study period, 5,043 office visits took place, and 395 positive FI screenings were documented using the SDoH tab (7.8% FI). FI was documented with the dot phrase in 276 patient records and FI diagnosis was added to 160 patient problem lists, and 252 food boxes were distributed. SNAP/WIC referrals were made for 133 patients.
Discussion:
The 7.8% FI rate is lower than the national average (10.7%) indicating that universal screening failed to identify a substantial portion of the FI population at SFHC.  The challenges of implementing and documenting universal FI screening included patient volume, work-flow processes, and inconsistent documentation. An FI-focused AmeriCorps member position was created to continue to close screening gaps. Family Medicine Residency clinics can support community health by identifying and reliably documenting FI and connecting patients to food resources.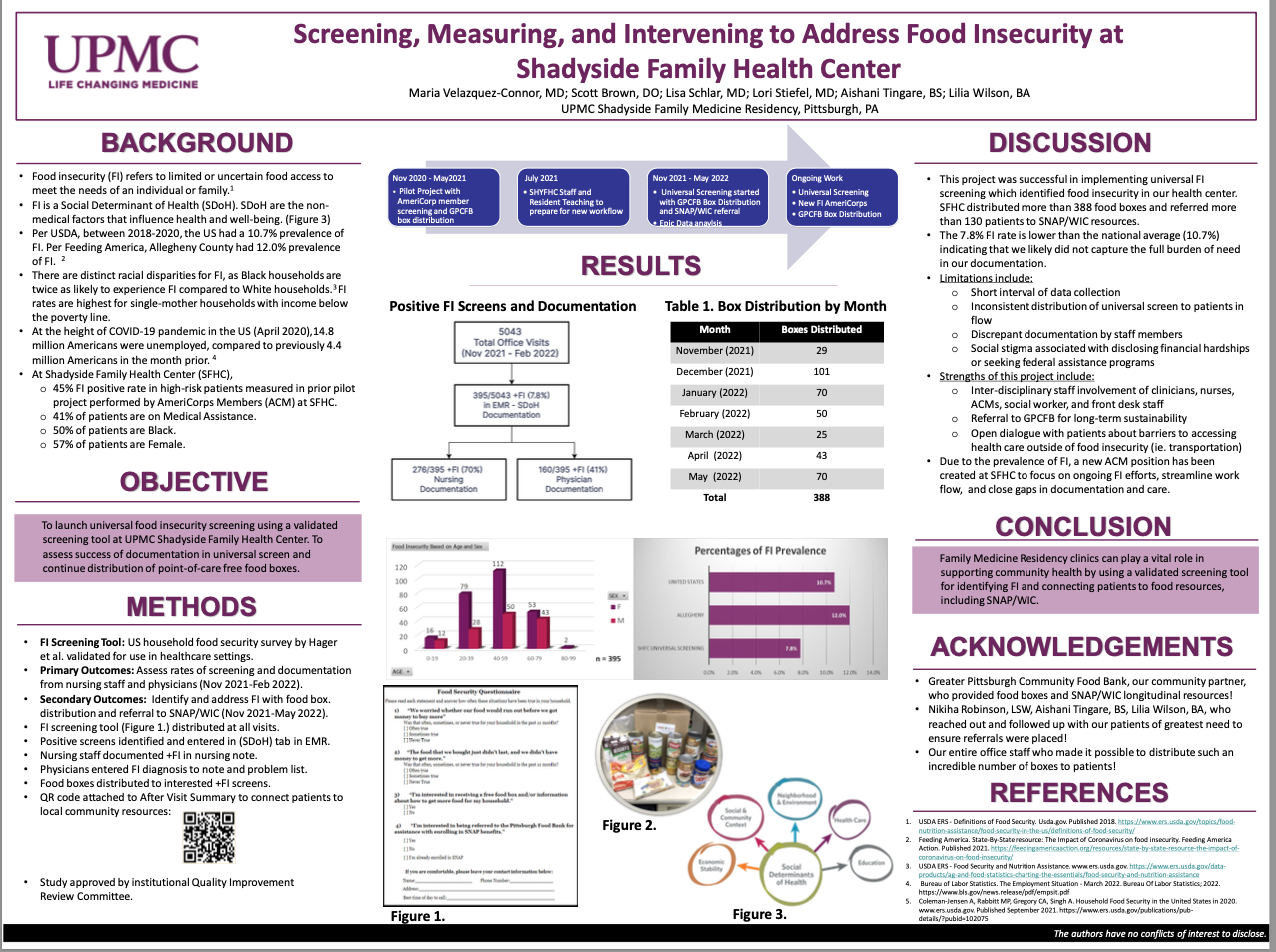 HomeTown
Staten Island, New York