Current Position Information
Fellow, Geriatrics Medicine Fellowship, University of Louisville, Louisville, Kentucky
Scholarly Research Project
Title: Addressing Geriatric Polypharmacy at the UPMC Shadyside Family Health Center (SFHC)
Authors: Meghan Brennan, DO; Michele Hebda, PharmD, BCPS
Introduction:
Polypharmacy in the elderly is associated with adverse events. The AAFP gives a grade C recommendation for physicians to prioritize deprescribing.  A review of polypharmacy interventions shows that most effective interventions are driven by clinical pharmacists.  The goal of this project was to promote medication management visits with a pharmacist to encourage deprescribing for patients at the Shadyside Family Health Center age 75 years and older on 10+ medications.
Methods:
QI approval was obtained. In the first phase, an EHR check box was added for physicians to easily refer qualifying patients to the FHC pharmacy team.  During the COVID-19 pandemic, weekly email reminders were sent about the referral process. In the second phase, patients were contacted through MyUPMC messages, letters, and phone calls encouraging them to schedule in-person or telemedicine pharmacist visits.
Results:
Of 201 FHC patients aged >75, 67 were taking 10+ medications (33.3%). The check box system and provider emails led to one (1.5%) and four (6.0%) pharmacy visits, respectively.  30/67 patients were sent MyUPMC messages.  6/30 were seen by pharmacists (20%).  51/67 patients were contacted by letter.  4/51 were seen by pharmacists (7.8%).  47/67 patients were called via telephone.  4/47 were seen by pharmacists (8.5%). Overall, 19/67 patients (28.4%) were seen for medication management visits with a pharmacist.  Of these, six were in-person, seven by video, and six by telephone.  During August 2019 of the visits, one or more medications were deprescribed (42.1%).
Conclusion:
This project evaluated the effect of an EMR checkbox, provider reminders, and direct patient contact (messaging, letters, and phone calls) on new referrals to clinical pharmacists to combat geriatric polypharmacy.  There was greater yield from direct patient contact rather than intervention at the provider level.  The highest number of new visits resulted from contact via MyUPMC, suggesting that it is possible to effectively engage geriatric patients in virtual care.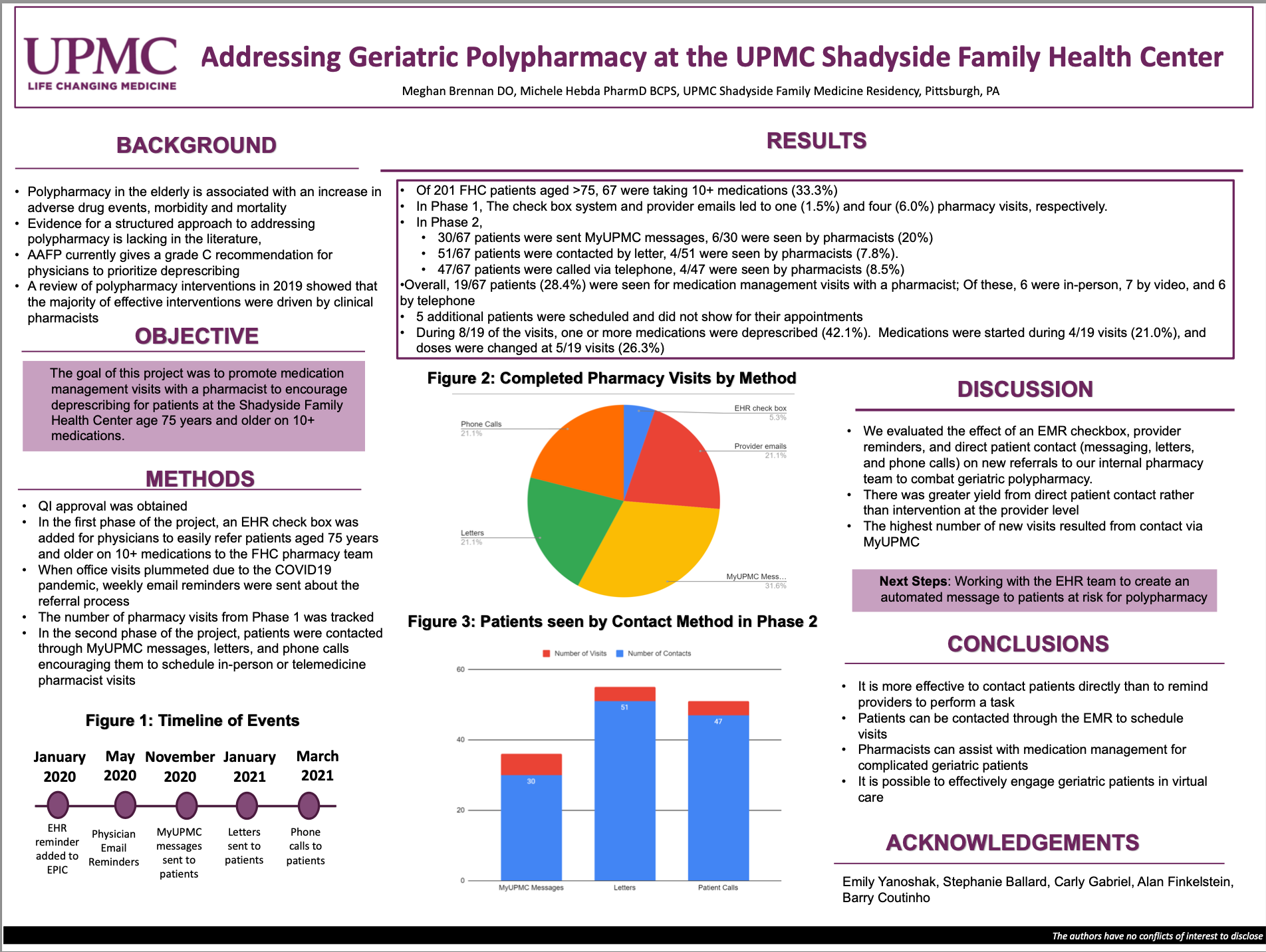 HomeTown
Louisville, Kentucky