Current Position Information
University of Michigan Adolescent Medicine Fellow, Lansing, Michigan
Scholarly Research Project
Title: Increasing Lead and Anemia Screening at a Family Medicine Residency Clinic Using Point-of-Care Collection
Authors: Natasha Nguyen, MD; Lori Stiefel, MD; Scott Brown, DO; Tiffany Yang, MD; Jacqueline Weaver-Agostoni, DO.
Background:
Lead exposure slows childhood growth and development by impairing learning, behavior, speech, and hearing. Lead screening is a critical measure in Allegheny County, where 80% of homes were built before the 1978 lead paint restriction. The Allegheny County Lead Task Force recommends screening children at 9-12 months and 24 months, or at least once before 6 years. Until 2021, providers at the Shadyside Family Health Center (SFHC) ordered venous lead and hemoglobin testing at external labs, with 2018-2019 provider order and patient completion rates estimated at 50% and 25% respectively. This project aims to increase lead and anemia screening rates with point-of-care (POC) collection.
Method:
In April 2021, POC lead and hemoglobin screening was implemented for eligible pediatric patients at SFHC. Staff were trained with Quest Diagnostics lead testing protocols previously approved at UPMC pediatric offices. Physician order and patient completion rates during pediatric visits age 9 months-6 years were assessed from April 2019-March 2020 (pre-COVID baseline), April 2020-March 2021 (pandemic baseline), and April 2021-March 2022 (post-intervention). Run charts were used to compare trends in serum/POC lead and hemoglobin testing order and completion rates over time.
Results:
Lead testing completion rates improved from 8.5% to 20%, with a shift above the median on run chart analysis. Hemoglobin testing completion rates improved from 10.5% to 37.1%. Chi-square statistics showed significant change between baseline and post-intervention completion rates, with POC testing more likely to be completed than venipuncture. There was no significant change in lead or hemoglobin order rate.
Discussion:
POC collection increases lead and anemia screening test completion within a Family Medicine residency office. Data analysis was limited by provider-patient screening barriers, intermittent supply shortages, and ongoing refinement of office technique. POC screening captures social determinants of health and improves comfort and convenience of collection.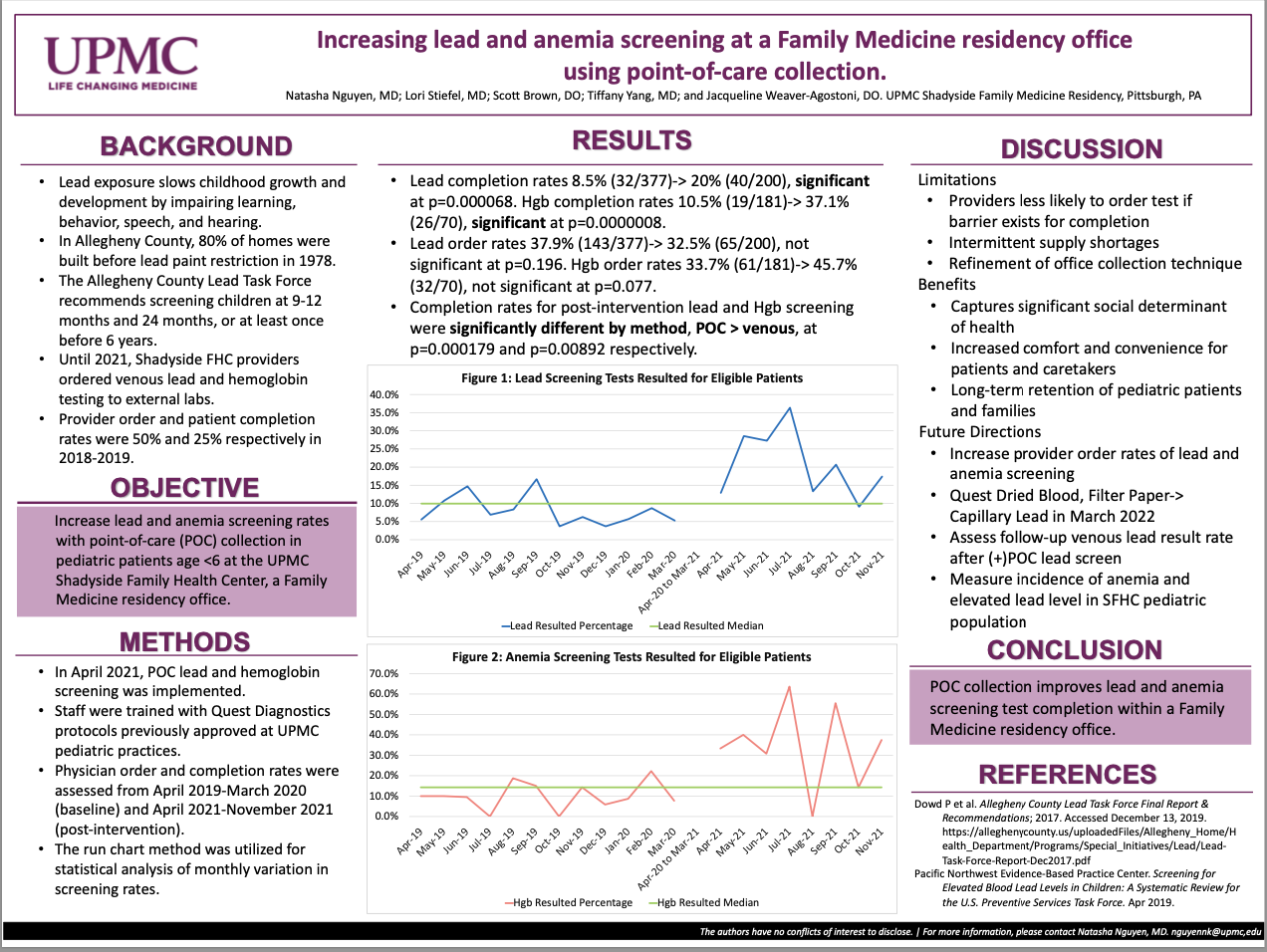 HomeTown
Fullerton, California