Current Position Information
Faculty, University of Pittsburgh Department of Family Medicine, Pittsburgh, Pennsylvania
Scholarly Research Project
Title: Successful Implementation of Fourth Trimester Care at the Shadyside Family Health Center (SFHC)
Authors: Stacy Bartlett, MD; Lisa Schlar, MD; Kayla Warren, MPH
Introduction:
Postpartum mothers are dying at higher rates in the United States than the rest of the industrialized world, disproportionately affecting women of color. The CDC has determined that 40% of postpartum deaths occur prior to the six-week traditional postpartum visit and are preventable. A major tenet of the American College of Obstetrics and Gynecology's Fourth Trimester redesign is contact with the postpartum mother within 21 days. Prior to implementation, 27% of mothers did not have a postpartum visit at the Shadyside Family Health Center (SFHC).
Methods:
We utilized an iterative quality improvement process to implement a two-week early postpartum combined mother/baby visit with a new scheduling and reminder process. The OB coordinator maintained an active SFHC prenatal patient registry.  Multiple checkpoints were employed to ensure this visit was scheduled, including at 38 weeks, prior to discharge from the hospital and through a one-week postpartum phone call. Two 15-minute lectures educated physicians about the new process and importance of earlier postpartum care. One-week postpartum call included screening for postpartum risk factors and appointment reminder. A visit-specific documentation template was created, refined, and built into Epic EMR to improve usability and data collection. Chart review determined rates of appointments scheduled, attended, and if continuity provider was present.
Results:
From February 2020-January 2021, 43 patients met inclusion criteria; 35 scheduled a postpartum appointment within three weeks and 32 of those patients (91%) attended their appointment, for a total completion rate of 74% among all post-partum patients.  Twenty-six (82%) of the completed appointments were with the continuity resident.
Conclusion:
A multi-faceted intervention to implement and improve an earlier postpartum visit including pre-discharge scheduling of appointments, coordinator involvement, and tying the care of the mother to the expected two-week newborn visit yielded high visit completion rates.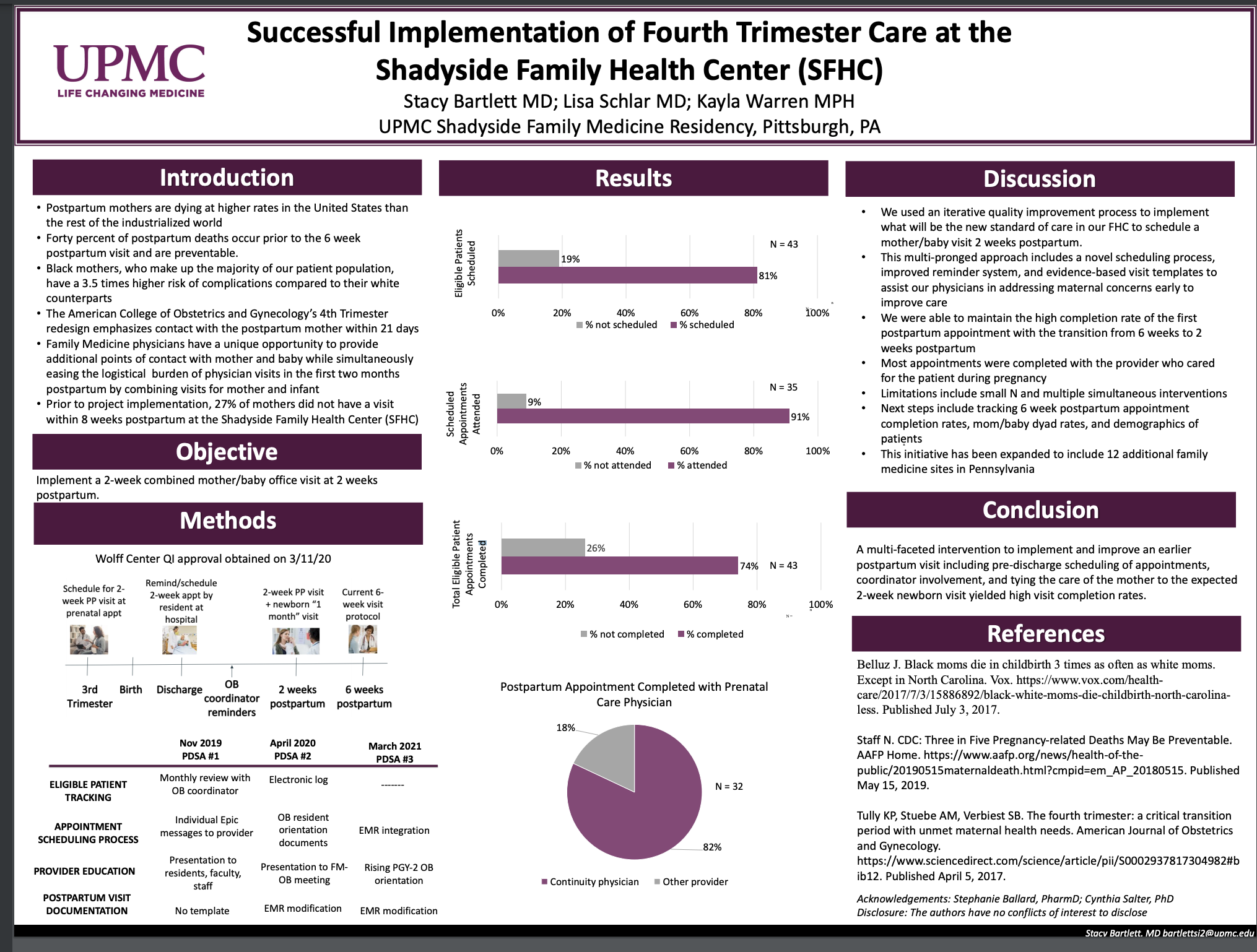 HomeTown
Columbus, Ohio