Current Position Information
Assistant Professor, Department of Family Medicine and Community Health, Perelman School of Medicine, University of Pennsylvania, Philadelphia, Pennsylvania
Scholarly Research Project
Title: Advanced Care Planning Education Improves Use of an Electronic Health Record-Based Means of Documentation
Authors: Zachary Kosak, MD; Alan Finkelstein, MD
Background:
Advanced care planning (ACP) is critical but overlooked in the primary care setting. While many patients have not discussed advanced directives with their primary care physicians, patients prefer that conversations about ACP start early and are initiated in the primary care environment. Family physicians are uniquely qualified to have these conversations with patients despite perceived barriers.
Methods:
A pre-intervention survey collected information on where resident and faculty physicians at the UPMC Shadyside Family Health Center (SHY FHC) document their ACP discussions and how comfortable they feel having these discussions. Through a presentation and subsequent reminders via email with screenshots and in-person reminders, physicians were educated on where to document these in the EpicCare electronic health record and provided with a brief communication tool to initiate these conversations. Post-intervention survey data were collected, and pre- and post-intervention data were compared using chi-square of proportions and two sample t-testing where appropriate. The UPMC Quality Improvement Review Committee approved this project.
Results:
While 23/40 pre-intervention surveys were returned, only 13/40 post-intervention surveys were returned. The proportion of respondents who responded correctly to questions about where to document ACP discussions increased from 11.1% (3/27) to 46.1% (6/13; p = 0.007). While Likert scale data suggests physicians felt more confident in locating ACP documentation in the chart and doing so quickly, no statistically significant difference was found (p > 0.05). Confidence starting ACP discussion and having enough time for ACP counseling had increases in Likert scale confidence post-intervention but did not reach statistical significance (p > 0.05).
Conclusion:
Educational interventions increase awareness of appropriate ACP documentation in a Family Medicine residency clinic setting. Limitations include a small number of post-intervention survey participants. Further intervention to increase provider confidence with ACP discussions is warranted along with evaluation of impact on ACP discussion completion.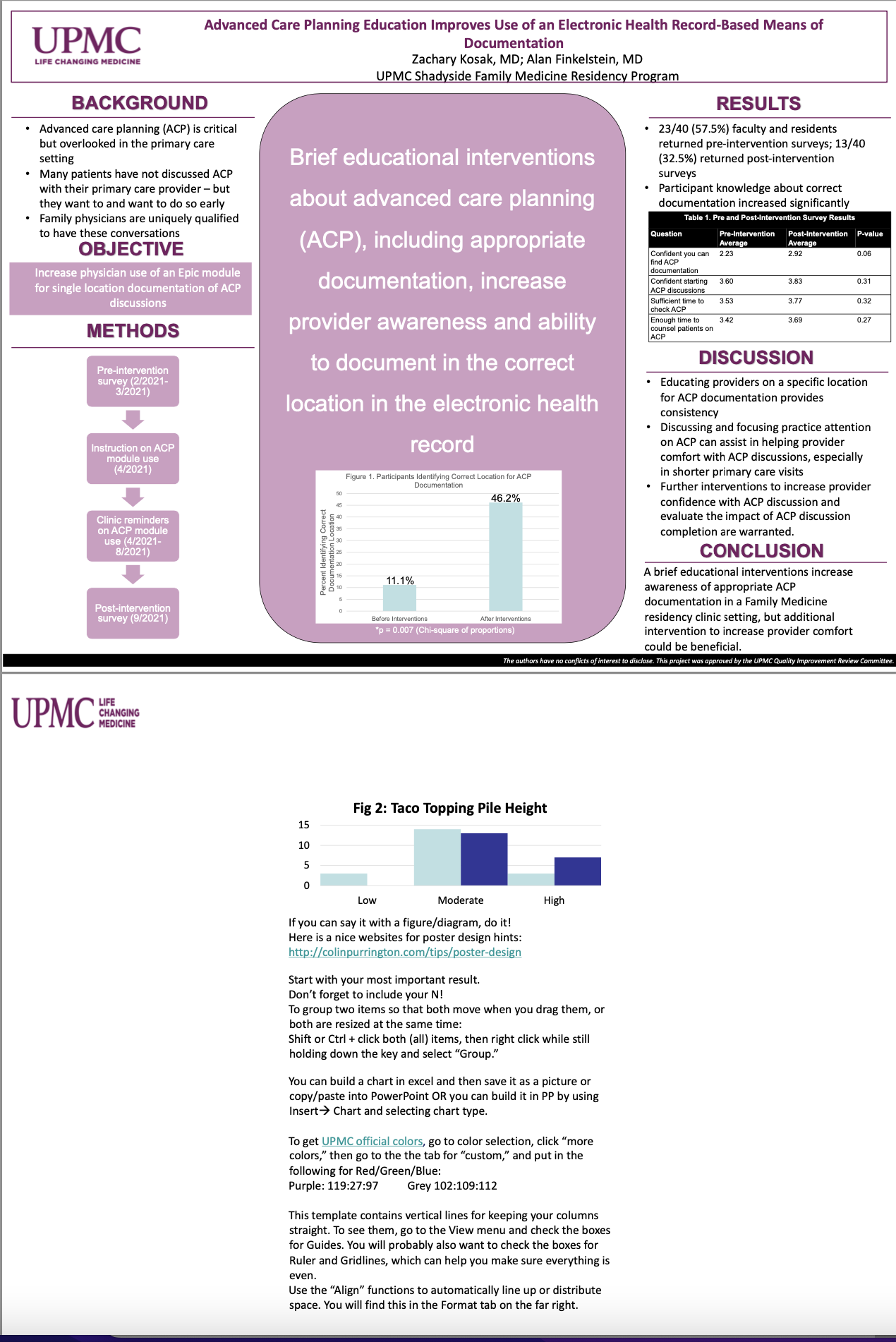 Hometown
Center Moreland, PA